Welcome to the Beatitudes Center for the Nonviolent Jesus!
Upcoming Zoom Programs:

"The Gospel of Peace: Matthew, Mark and Luke from the Perspective of Nonviolence." A Three Week Lenten Series with John Dear
Wed., Feb 21, 2024. Session #1 on Matthew

Wed., Feb 28, 2024. Session #2 on Mark

Wed., March 6, 2024. Session #3 on Luke
4 PM Pacific, 5 PM Mountain, 6 PM Central, 7 PM Eastern
Participants are encouraged to order the book at the special discount price. See info for details
Host Fr. John Dear on his 2024 Speaking Tour for his Forthcoming Orbis Book:



"The Gospel of Peace: A Commentary on Matthew, Mark and Luke from the Perspective of Nonviolence."

For more info, click here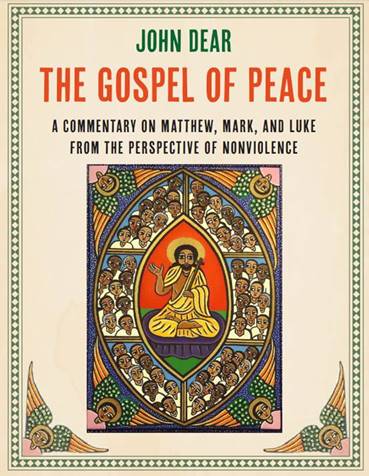 John Dear's new book now available


"The Gospel of Peace:
Reading Matthew, Mark & Luke
from the Perspective of Nonviolence"
To order discount copies at $20 each,
Call Orbis Books at 1-800-258-5838 and give them the special code: "JDT"
Two In Person Retreats in 2024:
May 3-5, 2024
, "The Gospel of Peace" weekend retreat, East Stroudsburg, PA, See:
www.kirkridge.org
July, 17-21, 2024, "Following the Nonviolent Jesus: Living the Gospel Life of Peace, Love & Nonviolence Today,"
To invite John Dear to speak in your city, write to: john@beatitudescenter.org 
Sign up to receive the Beatitudes Center Newsletter
Fill out the form below and click subscribe.
This is completely free and you can unsubscribe at any time
We promise we will NOT share or sell your information to any 3rd party advertisers.
LATEST NEWS FROM THE BEATITUDES CENTER
Quote for the Day:

 
"Blessed are the meek [the nonviolent]; they will inherit the earth… Blessed are the peacemakers; they will be called the sons and daughters of God… You have heard it said, 'An eye for an eye and a tooth for a tooth,' but I say to you, offer no violent resistance to one who does evil… Love your enemies."
–Jesus of Nazareth (Matthew 5)
Quote for the Day: 
"Into this world, this demented inn, in which there is absolutely no room for him at all, Christ has come uninvited. But because he cannot be at home in it, because he is out of place in it, and yet he must be in it, his place is with those others for whom there is no room. His place is with those who do not belong, who are rejected by power because they are regarded as weak, those who are discredited, who are denied the status of persons, tortured, exterminated. With those for whom there is no room, Christ is present in this world."
–Thomas Merton
November 27, 2023
Dear Friends, Blessings of Christ's peace to you!
   As we start the holy season of advent, I thought we could turn to Thomas Merton, the great monk, contemplative, author, and teacher, for wisdom to help us prepare anew for the coming of the nonviolent Jesus in 2024. For me, there is no greater Merton scholar than my friend Jonathan Montaldo, who will reflect with us on "Thomas Merton's Advent Message of Peace, Prayer, & Hope" on Saturday, December 9th. Join us and be inspired!
     Jonathan Montaldo is a writer, editor, and retreat presenter. He served as director of the Thomas Merton Center at Bellarmine University in Louisville, Kentucky, the official archive, from 1998 -2001. He was Associate Director (2006-2009) for the Merton Institute for Contemplative Living in Louisville, for which he created "Bridges to Contemplative Living with Thomas Merton," a ten-booklet resource for small group dialogue. He served also as the director of Bethany Spring, the Merton Institute's Retreat Center one mile from Merton's Our Lady of Gethsemani Abbey.
     He edited "A Year with Thomas Merton;" "Dialogues with Silence: Merton's Prayers & Drawings;" "Choosing to Love the World," and "Thomas Merton in His Own Words." He was principal editor of "The Intimate Merton: His Life from His Journals" with Br. Patrick Hart of Gethsemani. He edited the second volume of Merton's private journals, published in seven volumes by Harper Collins, under the title "Entering the Silence (1945-1959)."