Welcome to the Beatitudes Center for the Nonviolent Jesus!
Upcoming Zoom Programs:

"The Gospel of Peace: Matthew, Mark and Luke from the Perspective of Nonviolence." A Three Week Lenten Series with John Dear
Wed., Feb 21, 2024. Session #1 on Matthew

Wed., Feb 28, 2024. Session #2 on Mark

Wed., March 6, 2024. Session #3 on Luke
4 PM Pacific, 5 PM Mountain, 6 PM Central, 7 PM Eastern
Participants are encouraged to order the book at the special discount price. See info for details
Host Fr. John Dear on his 2024 Speaking Tour for his Forthcoming Orbis Book:



"The Gospel of Peace: A Commentary on Matthew, Mark and Luke from the Perspective of Nonviolence."

For more info, click here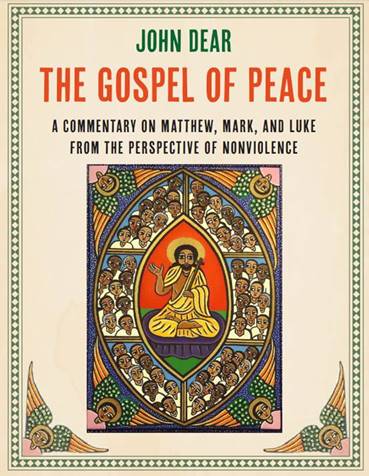 John Dear's New Book
NOW AVAILABLE
"The Gospel of Peace:
Reading Matthew, Mark & Luke
from the Perspective of Nonviolence"
To order discount copies at $20 each,
Call Orbis Books at 1-800-258-5838 and give them the special code: "JDT"
Sign Up to Receive Newsletters from the Beatitudes Center
Sign up for the regular Beatitudes Center newsletter.
Fill out the form below and click subscribe.
This is completely free and you can unsubscribe at any time
We promise we will NOT share or sell your information to any 3rd party advertisers.
LATEST NEWS FROM THE BEATITUDES CENTER
Quote for the Day:

 
"Let us make nonviolence, both in daily life and in international relations, a guide for our actions. And let us pray for a greater diffusion of the culture of nonviolence, which involves the lesser use of weapons, both by States and by citizens."
–Pope Francis,
a few weeks ago, when he called the church to make this
month a month of prayer for nonviolence
Quote for the Day: 
"We as a nation must undergo a radical revolution of values. We must rapidly begin the shift from a "thing-oriented" society to a "person-oriented" society… A nation that continues year after year to spend more money on military defense than on programs of social uplift is approaching spiritual death…Our only hope today lies in our ability to recapture the revolutionary spirit and go out into a sometimes hostile world declaring eternal hostility to poverty, racism, and military."
— Martin Luther King, Jr.
October 3, 2023
Dear friends of the Beatitudes Center, Blessings of peace to you!
"There is never any reason to denigrate another human being," says Dr. Catherine Meeks, "and this is what we all have to teach. It is non-negotiable."
I think she's right—that the message at the heart of Gospel, the meaning of our humanity, is a call to universal love which means, for starters, that we can never harm anyone ever again. The Sermon on the Mount offers a broad vision of total nonviolence as a way of life where we see that every human being is equal, every human being is a child of God, every human being is a sister or brother. Once we step into that vision of Gospel nonviolence, we can never hurt or kill another human being ever again, or sit on the sidelines while so many are suffering and so much hate, war, and destruction continues legally in our names.
The Gospel invites us to welcome God's reign of universal love and total nonviolence every day, and that means, we do our little part to end poverty, sexism, gun violence, executions, war, nuclear weapons, and environmental destruction. And racism. In other words, we're all on a journal of healing—the healing of ourselves, one another, and creation.